Book time with an Expert
In this initial consultation we'll discuss your business, what you are looking to achieve and share some best practices on how to create maximum value.
"Absolutely have loved working with Genroe & the CustomerGauge team. They have been very supportive, above and beyond compared to any other business I have ever worked with."
David Schekoske
Iron Mountain Australia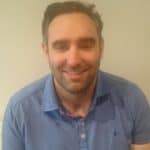 Genroe's ability to be hands on with all areas of our business, guide each area of our business through the steps of introducing NPS into our BAU through outstanding communication, was their greatest strength.
Michael Bray
Gray's Online
This offer only available to Australian and New Zealand companies.